FRIENDS WHO WE WILL NOT FORGET: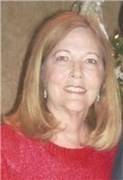 Patricia Gwen Gongloff, age 70, of Beverly Hills, FL passed away on July 19, 2017 at Tampa General Hospital, Tampa, FL.
Patricia was born in Upper Darby, PA on July 26, 1946 to the late William Haines and Mary June (Adkins) Carnall. Patricia was a hospital administrator for Johns Hopkins Hospital, and a contract negotiator for CMS in Baltimore, MD. She received a Bachelors Degree in Chemistry from the University of Pittsburgh, and her MBA from Johns Hopkins University. On August 9, 1969, she married Charles "Chuck" Gongloff with whom she shared 47 loving years of marriage.
Both Patricia and Chuck loved cars and were members of the Citrus County Corvette Club, the National Corvette Restorers Society, the Citrus County Cruisers and the Citrus Vettes and Camaro Car Club. Patricia was also a member of the Red Hat Society, the Loyal Order of Moose in Crystal River, and the Citrus Hills Golf and Country Club. Patricia enjoyed reading, cooking, traveling, and painting. She was a volunteer for the Homosassa Springs Wildlife State Park and enjoyed playing cards with her neighborhood friends, gardening and growing flowers and herbs. She loved kayaking all over Florida, and was a dedicated Baltimore Ravens and Orioles fan.
In addition to her husband Chuck, those left to mourn her passing are her daughter, Michelle "Mitzi" Gongloff of Beverly Hills, FL; brother, William Carnall and his wife Joyce of Mt. Pleasant Mills, PA; sister, Debra Capriotti and her husband Brian of Baltimore, MD; grandchildren: Madelyn and Jacob Snodgrass; niece, Amy Stewart of Wilmington, DE; and nephew, Richard Tinley of Philadelphia, PA.
Private cremation arrangements by Chas. E. Davis Funeral Home with Crematory, Inverness, FL. In lieu of flowers, memorials are requested to: Friends of Homosassa Springs State Wildlife Park, 4150 So. Suncoast Blvd., Homosassa, FL 34446. Please indicate Gongloff Memorial on your check. Sign the guest book at chronicleonline.com.
Published in Citrus County Chronicle on July 23, 2017